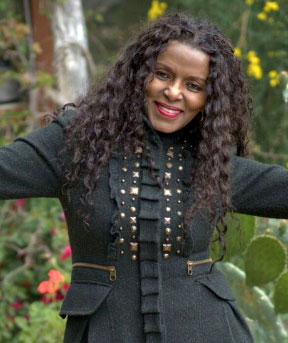 The Mothers knew what they needed: a high school for our girls.
It's an impossible request. The mothers making it barely subsist in the Eritrean refugee camps in the Eastern Sudan. It is a hostile, barren environment, devoid of water, food, even basic sanitation.
Zebiba Shekhia and the Eritrean people had endured so much up to this point: the brutality and genocide perpetrated on Eritrea by Haile Selassie and then the notorious dictator, Mengistu; the hardship of fleeing her own country under cover of night as the war between Ethiopia and Eritrea raged overhead.
She made it to America, but would the same determination to find a better life hold her through the darkest moments of her life?
Would she be able to keep her promise and find a way to get that high school for girls built?
Be inspired by Zebiba's tenacity as she found a way to help the mothers and daughters of her homeland find a better life through education. "Building the Impossible" tells the triumphant story of her journey to confront the past in order to create a better future for thousands of children.
Zebiba Shekhia is the founder of Healing Bridges. She continues her work, in spite of ongoing health issues, to help the women and children in Eritrean refugee camps in Eastern Sudan. Zebiba lives in Los Angeles.
The Power of Stories
To capture the essence of a human being—that is the purpose and the power of stories, and that is exactly what Zebiba Shekhia has captured in this book, "Building the Impossible". Here is a story of how one woman escaped, not just the horrors of war and genocide, but something that is more insidious, more destructive even, than murder—poverty. But, it is precisely because she has escaped that hellish fate that she feels that she must go back and help the women and children in all the war-torn areas of Africa.
Professor Mohammad Yunnis
2006 Nobel Peace Prize Winner
Finding Peace through Forgiveness
Finding peace through forgiveness is sometimes difficult but always rewarding. The struggle for that peace along with its reward is something you will find in the pages you are about to read. It is the story of a child of Eritrea…Like so many of her brothers and sisters throughout Africa, little Zebiba Shekhia had to face up to the massacre and oppression that always accompanies war. She learned how to be still when she needed, but she did not let her fear get the best of her.
My hope is that "Building the Impossible" will touch you as it did me, so that you, too, are led to help create these healing bridges of peace with us.
Bishop Desmond Tutu
1984 Nobel Peace Prize Winner
Watch the incredible story of how Zebiba built the first school for girls in an Eritrean refugee camp in Eastern Sudan.
School's Impact
The impact of the Shegerab Secondary School has been profound. Girls who never dreamed of receiving an education beyond elementary school are now in college. The positive impacts have been felt not just by students, but by everyone. Increased access to higher education has had positive social and health impacts throughout the camp. Over a decade later, girls continue to receive a quality education at the Shegerab Secondary School . A school, which many believed, couldn't be built. "Building the Impossible" reveals how Zebiba overcame incredible odds to bring hope and purpose to the camp's 7000 children.